CURRENT MARCY COOK HANDS ON MATH WORKSHOPS
For all upcoming Marcy Cook Math Workshops for grades K - 6 through Creative Mathematics go to:  Creativemathematics.com
| | | | |
| --- | --- | --- | --- |
| Arrange a Marcy Cook workshop   for your school/district | Telephone: 949 673 5912       | Fax: 949 673 7909 | email: This e-mail address is being protected from spambots. You need JavaScript enabled to view it |
About Marcy Cook Math Workshops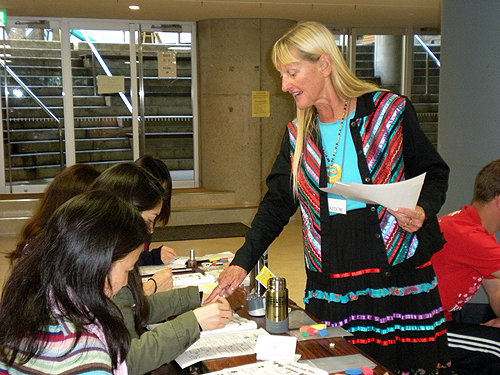 Marcy's expertise in elementary and middle school mathematics combined with her enthusiasm for children and teaching make her an excellent source for inspiration; she has 100+ ideas at her finger tips and is ready and eager to share this knowledge and enthusiasm with others.

Marcy's rapid fire presentations focus on involvement.  They move quickly, cover a lot of ground, and actively engage the participants.  As a result, teachers leave her workshops with dozens of practical ideas and much more enthusiasm for math and teaching.

Popular workshop topics include creating an exciting math environment, communicating math, algebraic thinking, reasoning, use of manipulatives, problem solving, differentiating to meet the needs of all students, mental math, cooperative math experiences and challenging students to THINK.