CURRENT MARCY COOK HANDS ON MATH WORKSHOPS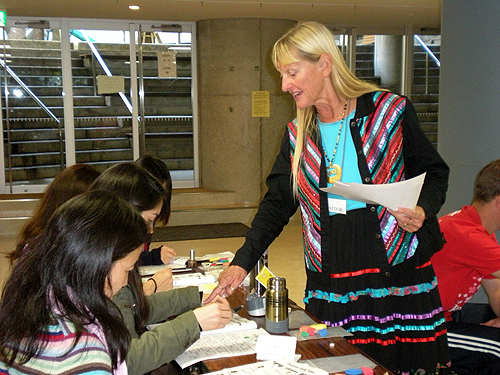 Marcy Cook, master educator, author and math specialist, has presented workshops and seminars for teachers throughout the USA and in over three dozen foreign countries. Having taught two years in the International School in Tehssaloniki, Greece, she has provided math inservices in South America, Central America, Canada, Mexico, Asia, Africa and Europe. With a Bachelor of Arts from the University of California, Santa Barbara, and a Masters Degree from Stanford University, she has taught all elementary grades, junior high, high school and university levels.
Marcy worked as an independent math consultation, training thousands of enthusiastic teachers with her active, hands-on workshops. Her experience with classroom teaching, GATE (gifted and talented education), and student teaching supervision have inspired her to create meaningful math materials (over 100 books and 190 tile task card packets) and to share her ideas with others.
Marcy is a very creative and innovative presenter who brings energy and motivation to her sessions. Her active hands-on workshops leave teachers with practical ideas and strategies to take back the classroom immediately.
This e-mail address is being protected from spambots. You need JavaScript enabled to view it